Tonight marks the 7th day of my visit to Heidelberg. Berlin feels like a distant memory, now that a new routine is established here. A lot has happened this week, and I will do my best to recap everything here.
School
We began the schooling process Sunday morning with an oral exam. The oral and written exams are used to determined which difficulty level we get placed in. There are 4 primary levels:
Complete Beginner
Elementary (Grundstuffe)
Intermediate (Mittelstuffe)
Advanced (Oberstuffe)
Within each of these levels, however, are numerical sub-levels. The range varies, but for Grundstuffe there are 6 sub-levels that I know of. The greater the number, the greater the difficulty.
I applied for Grundstuffe, and after a mediocre oral exam, and a rather good written exam, I was placed in Grundstuffe 5. Not bad!
Classes truly began on Tuesday, where we met our professor, Thorsten, our Betreuerin (mentor), Juliane, and all of our classmates. Within this class I made some friends to hang out with after class. It really is an outstanding opportunity to make friends with people from every corner of the world. This week I made acquaintance with people from Romania, Hong Kong, Spain, Bulgaria, China, the UK, and it goes on!
So far it has been challenging with 100% German instruction, but it is getting easier. Even though I do not have the vocabulary to understand everything, I can still fill in most of the blanks and gain context. The biggest challenge now will be in diligently completing my homework…
Extra-curricular
Heidelberg University offers summer students a number of free workshops to help increase exposure to spoken German and help teach new skills. Sports, singing, writing and film are all options, and there is also a ballroom dancing course. I attended the sports and film introductions, but the activity I plan on making time for is ballroom dancing.
Monday was the first session of this weekly workshop. This week we learned the basic Cha Cha and Waltz. I partnered up with a complete stranger, and had a great time trying to stay afloat in something completely new. I'm looking forward to future weeks and getting more practice, since dancing really is a worthwhile and fun skill to have.
The city here is so beautiful, and has a preserved Alt-Stadt (old city) area. The buildings and scenery are picturesque, and above it all is the Heidelberger Schloss, a castle high up in the hill.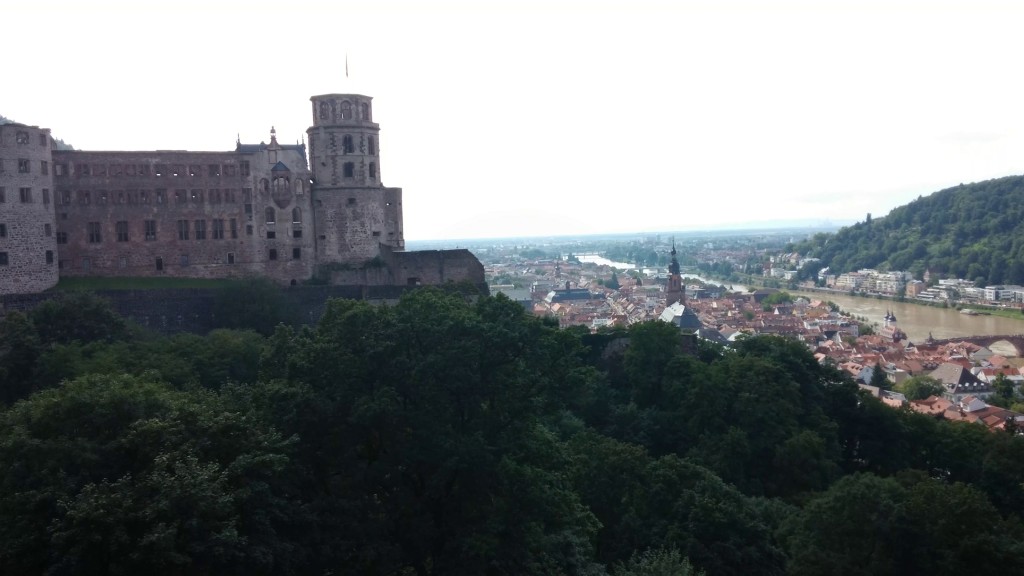 With a few others, I made the trek up a long, steep cobblestone path to reach the castle. The view was incredible, overlooking the entire city. All of the bridges on the Neckar River were visible. We took a walk through the large park up there, complete with a fountain, garden and plenty of trees.
The university hired a party boat Wednesday afternoon, where a live band played plenty of rock music and got the crowd in a dancing frenzy. It was a great time, and brought us far along the river past the outskirts of Heidelberg.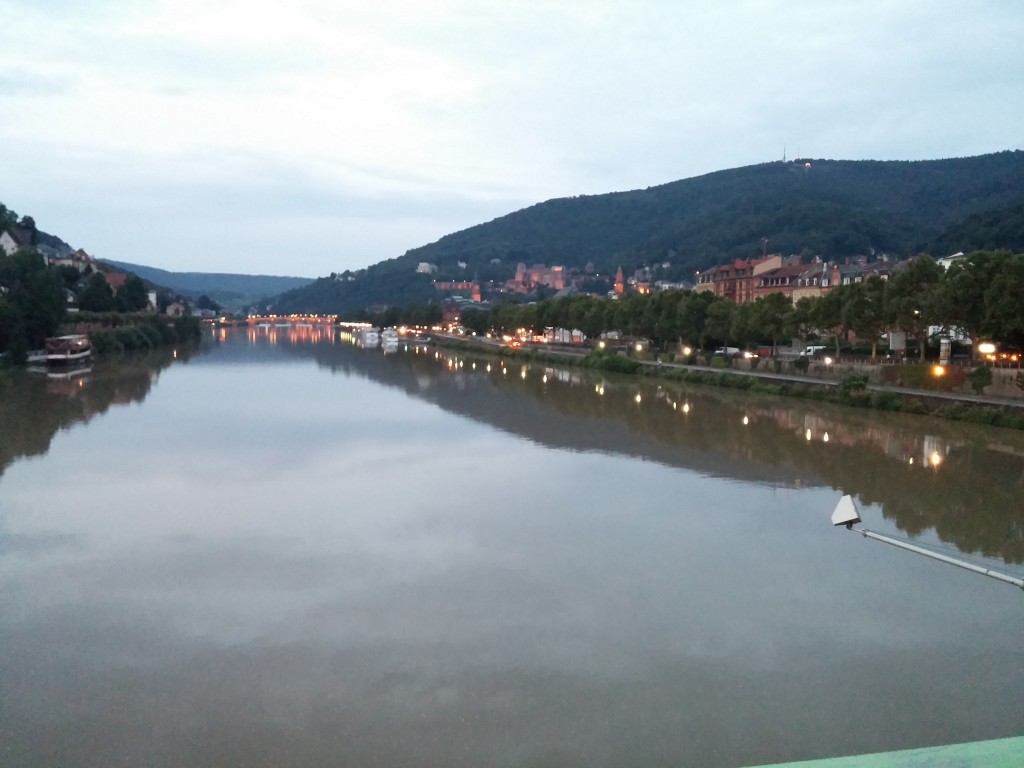 Exploring the city itself is an extra-curricular activity, and this week I walked along several of the bridges and enjoyed a few parks.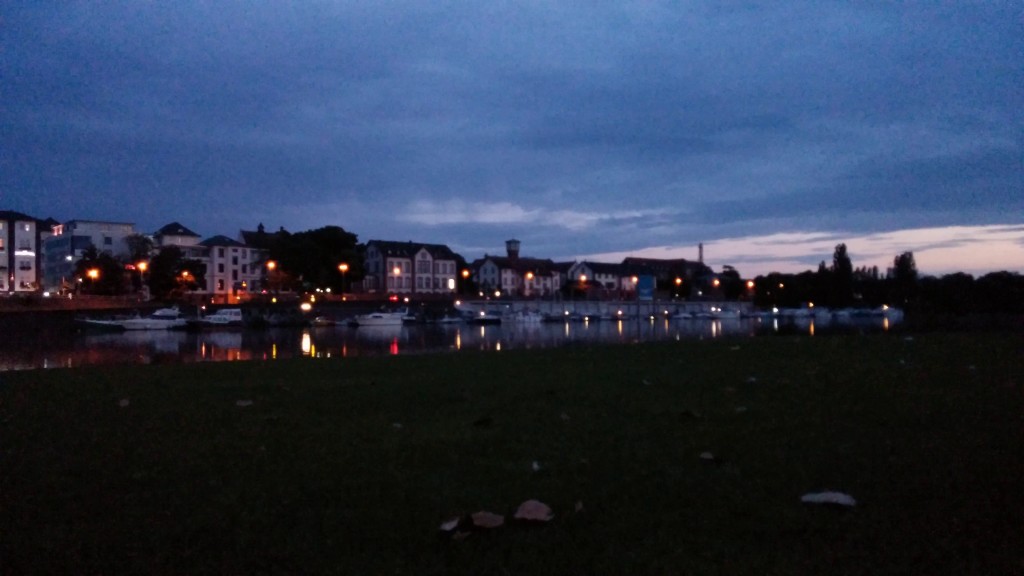 Thursday night, our class as a whole went to the park beneath the Theodor-Heuss-Brücke to enjoy a group picnic. Later that evening, we went to see a Jazz quartet playing a free show in the old university hall.
Transportation
When I was first brought to my apartment, I was shocked by how far it felt from the rest of the city. Like my map from last week showed, it is a good trek from downtown.
Bikes are everywhere here, and it really is the most practical method of transportation.
After riding my bike for a few days to get to school, I didn't feel so distant from everything and it seemed that biking would work out nicely. That is, until the rear tire went out on Wednesday. So, I ended up purchasing a bus pass to allow me to get around. Less independent, but perhaps a bit more reliable.
In Heidelberg, there are buses and trams for getting around in-town. However, the bus pass I purchased also allows travel in all of the Rhine-Neckar region, which extends out to Mannheim, and even further East and West. While I don't expect to do much traveling that far away, it is very convenient to have all of that included in a 55 Euro ticket.
Living Arrangements
Once we were all settled into our own apartments, we also began to visit friends' apartments.
There are some great views to be had from those with top floor rooms, but even my front window offers a taste of something different from home.
Food
With 90% of my waking hours spent near the university, this means that almost all my meals are purchased. European universities generally have cafeterias, known as Mensas, which offer a selection of real meals at very low prices. So for the past week, almost all of my lunches and suppers have been at the Mensa.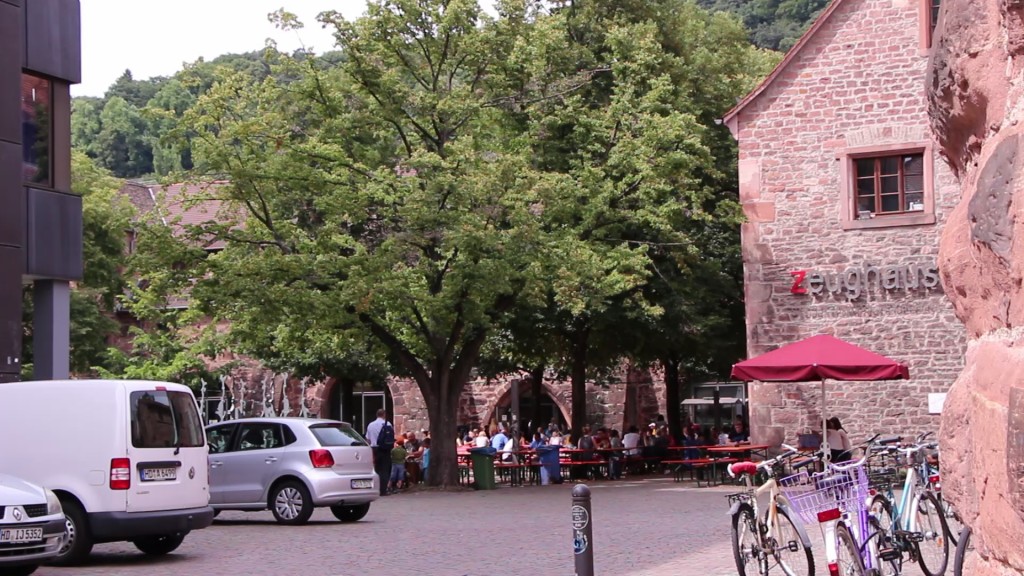 The buffet there has many vegetables, meats, and occasionally fries and noodle dishes. The cost is based on weight, with a rate of 8 Euro per kilogram of food. It takes a few days to calibrate yourself for taking food. A full plate might cost 5 Euro, but end up being more than you can eat. It is very easy to pile on multiple main courses.
Today I smartened up, and was able to get a good lunch for 1,28 Euro. Much better.
Beer
Yes, it deserves its own section. The beer here is pretty awesome. Both in price and in taste. There is a local brewery, Heidelberger Brauerei, which makes tasty and inexpensive beers. Beer can be bought at the Mensa, and the Heidelberger comes in Kristall, Light, and Dark varieties. I have become a fan of their Dark.
Another common drink here is Radler. This is beer mixed with a carbonated beverage, possibly Sprite, Coke, or most commonly Lemon spritzer. They have half the alcohol content of beer, but taste good and are worth a few tries.
And yes, 500ml of beer really does cost around $0.50 from a grocery store. The taste is equivalent to the cheapest varieties found in Canada, no doubt, but they are drinkable and do work as advertised.
Excursions
One of the exciting offerings of this summer program are the excursions. For around 22 Euro, students can buy tickets for trips to Cologne, Strasbourg, Rothberg, Bodensee, the Schwarzwald, and more. This includes transportation.
This Saturday, I will be visiting Cologne, to see the Dom and hopefully a few other sights there. The tickets sell out very fast, and I ended up snagging one of the last seats. Hopefully next week I can arrive earlier and have a greater selection.
Wrap-up
Tonight there is a disco put on by the university – a dance. I will be there, and it should be a great time, even though the trip to Cologne leaves at 7.15am tomorrow morning. Hopefully I can sleep on the bus there!
Until next time!